Nonprofit Talent Management Success
Overview
Learn
Client Stories
Next Step
Overview
Learn
Client Stories
Next Step
Why Talent Management must be Strategic for Nonprofits
People are the keys to success for your nonprofit organization today. It takes great people to help people. You need staff and volunteers who understand the values of your cause, nurture your donor relationships, and whom you can trust to drive your mission to new heights.
It is also vital to define and update your nonprofit Talent Acquisition strategy. Most companies have a recruiting process but not an overarching strategy. A recent survey revealed that 75% of nonprofits don't have a talent management strategy.
Establish a talent Acquisition strategy.
Build a Plan that combines your talent acquisition strategy with best practices.
Implement your strategy combined with best practices via a recruiting platform.
Building out these three components is difficult on their own, and even harder to do while managing the exhaustive list of daily recruiting functions. If this sounds like you, know you are not alone. We understand the struggles that nonprofits just like you face.
Where Nonprofits Should Focus to Succeed in Talent Acquisition
With more than twenty years of experience serving nonprofit organizations, Visibility Software is your guide and partner for Talent Management. Explore the Visibility Software Nonprofit Talent Framework to discover how
we can help you devise a talent acquisition strategy that will
take your nonprofit organization to new levels of success.
Watch the video: Top 5 Areas Nonprofit Executives Need to Focus on to Win the War for Talent
Explore the many Visibility Software resources and top tips that we have gathered over more than twenty years of experience as the Talent Management Part to seventy-plus nonprofits.
Top Tips From Our Nonprofit Webinar Series
Develop Your Talent Strategy
1. Gain a competitive advantage; 75% of nonprofit organizations do not have a talent strategy.
2. Purpose of a talent strategy is to have a plan to attract, motivate and retain employees
3. Having a talent strategy that is aligned with your mission will generate great talent outcomes.
From Webinar #1: The Practical Guide to Supercharging Your Talent Management Strategy
Utilize Talent Insights
1. Insights highlight what needs attention to ensure successful outcomes.
2. Insights validate goals and results by measuring HR process efficiency and effectiveness.
3. Insights are critical as they drive impactful Talent Management and bottom-line decisions.
Webinar #2: How Talent Insights Help Nonprofits Win The War for Talent
Expand Your Talent Pool
1. Double or triple the number of qualified candidates.
2. Larger talent pools uncover higher quality candidates.
3. Start identifying talent faster instead of waiting for people to apply.
Webinar #3: How to Build a Talent Pool to Support Your Nonprofit Mission
Improve Your Talent Experience
1. The experience of candidates, new hires, and established staff directly impacts your strategic outcomes.
2. New candidates with a better impression of you will be more likely to accept your offer.
3. A faster hiring cycle reduces costs and prevents gaps in your service mission.
Webinar #4: Elevate your Talent Experience to Attract and Retain Top Talent
Grow Your Talent
1. Talent Growth matters because it increases productivity to achieve organizational goals.
2. Talent grows improves employee development and increases engagement and retention.
3. Employee satisfaction: 94% said they would stay at the organization longer if they invested in their development.
Webinar #5 - Grow Your Talent to Drive Your Mission Outcomes
Resources for Growing Your Nonprofit Talent
We start with helping our nonprofit clients refine their Talent Acquisition strategy by utilizing our Talent Acquisition Framework that creates an organized approach and where to focus. We work with your Executives and HR team to improve recruiting and onboarding outcomes through a defined strategy, best practices combined with great HR tech.
Read the stories of how our nonprofit clients have achieved successful recruiting, onboarding, and training outcomes with solutions and guidance from Visibility Software.
Read the stories of how our nonprofit clients have achieved successful recruiting, onboarding, and training outcomes with solutions and guidance from Visibility Software.
Visibility Software has helped nonprofit organizations enhance  their mission outcomes with amazing Talent Management solutions. Mouse over the tiles and click to read the full story.
As your nonprofit Talent Management solution partner, we will solve your challenges in hiring, onboarding and growing your most talented employees. Click the button to choose the next step that is right for your organization. Mouse over the tiles to learn more about our clients.
Supercharge Your Talent Acquisition With an Experienced Nonprofit Partner!
Now that you are ready to supercharge your Talent Acquisition, the next step is to schedule a one-hour meeting with your team. This meeting is strategic in nature, and it would be helpful to include all applicable Senior Management (Executive Director, CFO, HR Leadership, and HR/Recruiting).
Review your Talent Acquisition Strategy or discuss how to go about creating one.
Learn the methodology that has evolved over 23 years and helped more than 200+ nonprofits improve their Talent Acquisition.
See how our  process helps ensure successful nonprofit Talent Acquisition Outcomes.
Next Step – See how we help build and execute your plan.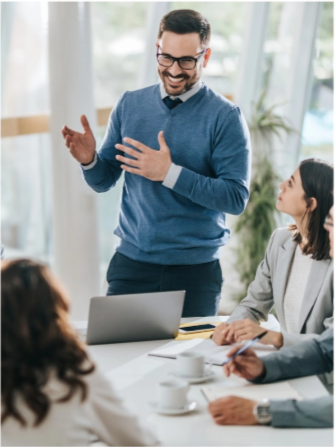 After this meeting, you'll receive our Talent Acquisition Strategy(TAS) Guide, which  includes our unique TAS Framework, the Top 10 best practices you can start applying today, and the Top 5 outcomes to focus on now
Complete the form to schedule your session now!