Cyber Recruiter™ from Visibility Software aligns your people, processes, and technology to provide better outcomes for your recruiting processes. Streamline your hiring and onboarding process so it actually works for you.
Improve your applicant experience and find better-qualified candidates

Automate tedious processes, freeing HR to spend more time on other high-value tasks

Leverage talent resources from within to save time and identify top talent

Accelerate the hiring cycle to fill vacancies faster

Gain valuable insights into your talent to drive strategic decisions
Watch the Video on How to Generate Better Recruiting Outcomes
Does your recruiting process work against you instead of for you?
Job creation is informal, undefined, and inefficient

Job marketing process is very time-consuming; tracking and managing are difficult

Managing applicants using excel, paper, and email is cumbersome

Evaluating applicants manually is inefficient and time-consuming

Difficulty getting job offer details gathered, presented, and approved

Onboarding has an overwhelming amount of new hire data and documents to manage manually
The Solution Is Cyber Recruiter™ Applicant Tracking (ATS)
Cyber Recruiter streamlines hiring with highly configurable process automation. From job creation all the way through to creating and extending offers and onboarding, we accelerate your new hire and onboarding process with online gathering of new employee information and form completion. The result is better recruiting outcomes with access to high-quality candidates, expanded recruitment efforts, and time saved to spend on higher-value tasks.
Download the Recruiting Solution Buyers Guide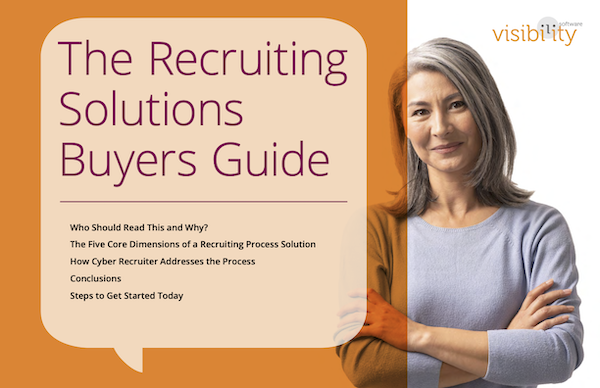 The Process is the Foundation for Progress
Integrate with more than 25,000 job boards that allow you to target specific parameters from geographic to a specialized niche.

Leverage your applicant pool by deploying a highly searchable resume database that retains previous highly qualified candidates.

Provide an employee portal to allow current employees to be part of the recruitment process and be proactive for internal promotions.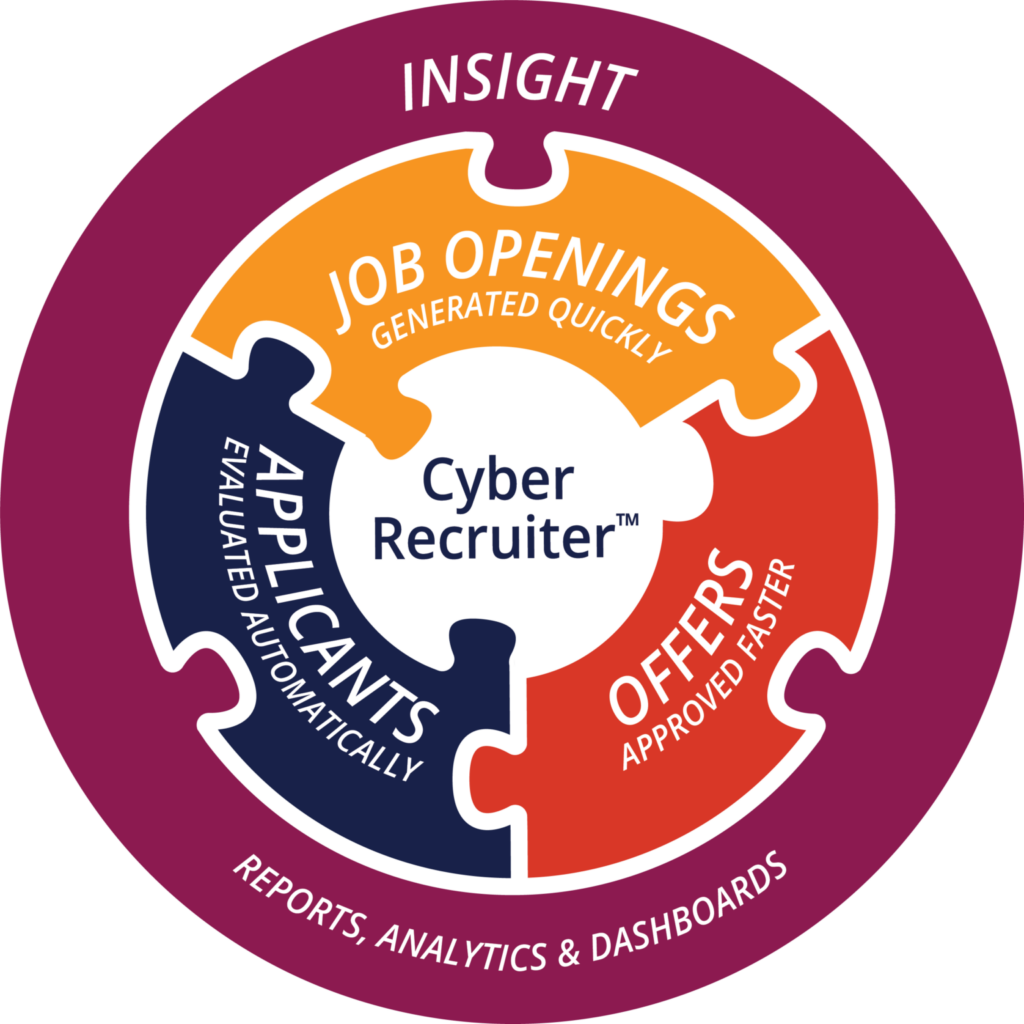 Streamlined Communication from Source to Hire
Reduce delays with a single-click requisition approval process that automatically notifies appropriate individuals.

Improve your team communications using workflow alerts for hiring tasks, interview scheduling, and evaluations, and offer approvals.

Gather feedback from managers immediately after interviews by utilizing a candidate evaluation tool.
Our Recruiting Solutions Onboard New Hires in a Snap
Accelerate productivity for new hires and your HR team by using a task manager to assign, communicate, and onboard.

Capture new employee information via questionnaire, auto-fill unlimited forms, and digitally sign for HR review and approval.
"Integrate with more than 25,000 job boards."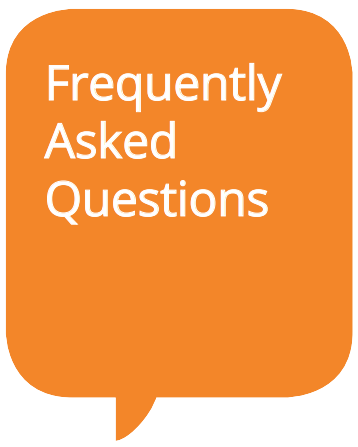 Yes, it can! Here are some outcomes you can expect to see:
Start receiving high-quality completed applications through an improved applicant experience.
Faster hiring manager responses through better-vetted applicants with single click status changes.
Prevent interview mistakes through efficient email-based communication and simple scored feedback collection.
Hiring managers and recruiters can generate new jobs quickly with an easy custom wizard.
Quicker new position approval and process updates through an automated, detailed, email-based process.
Get new jobs posted faster through the direct feed to the corporate career page, Indeed, and thousands of additional job boards.
There are 3 levels available, each designed to fit different requirements and budgets. Size of organization does not determine the level:

Lite: Lite provides a configurable system that gives you all the fundamental tools to manage recruiting, training information, and workflows.

Standard: Standard adds more advanced functionality and features like employee referral management.

Advanced: Advanced is the most comprehensive package with onboarding functionality and multi-company capabilities.
"Accelerate productivity for new hires and your HR team."
Schedule a Chat
Achieve Better Outcomes for Your Talent Management
Achieve Better Recruiting Outcomes
Achieve Better Training Outcomes
Schedule a Chat
Chat with a Talent Management Expert
We build scalable solutions on decades of recruiting and training experience, so they work for you, not against you. We identify your unique challenges to get the right solution up and running fast. Chat with us to discover how Visibility Software Recruiting Solutions transform hiring productivity.
Achieve Better Outcomes for Your Talent Management
Achieve Better Recruiting Outcomes
Achieve Better Training Outcomes